Introduction
We are one of the oldest companies based in Hong Kong that has been exporting fireworks made in China direct to the USA and Europe since 1974. Ewan Cheung, founder of our company, first started his career in fireworks in 1960. Our company was first established under the name of Oriental Fireworks (東方煙花).
Our company manufactures and supplies all kinds of fireworks including consumer fireworks, display fireworks and close proximity fireworks. Our company has grown from a trading company to a manufacturing company, with 7 factories located in Hunan and Guangxi, China.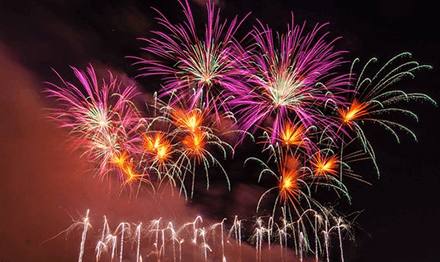 Our company offers two brands of fireworks. SHOGUN and VULCAN. The VULCAN brand was first launched in 1992 for our own manufacture range of high quality hydraulic machine pressed rockets and European style display shells. VULCAN was an immediate success in Europe as it found a niche market for premium quality Chinese fireworks at a lower price than European production. The SHOGUN brand was first introduced to the US in 1998. What initially began as a range of popular generic Chinese fireworks resurrected with better design packaging and improved performance, has now evolved into a full range of over 1000 different products. SHOGUN is principally marketed in the USA as a consumer fireworks brand, while VULCAN is the brand name of our range of premium display fireworks.
Both brands are known for their reliability, quality and innovation. We make and sell every kind of fireworks (and fireworks-related products) imaginable!
Our company continues to be fully dedicated to our CUSTOMERS' satisfaction, QUALITY of fireworks manufactured; and all aspects of SAFETY including the production, transportation and use of fireworks.
Most of all, we love fireworks!